Products

> Products > Suction and dust collectors
Products
Customer support center
070-7790-0269
MAIL
forcetec.co.kr@gmail.com
Suction and dust collectors

HOME > Products > Suction and dust collectors
Suction and dust collectors
Supplying compressed air, it sucks in and separates foreign matters using strong suction force.

Sucking and collecting fine dust created from processing graphite
Sucking, collecting, and separating processed chips
Sucking and separating wooden sawdust created from processing CNC carver
Sucking and separating fine foreign matters created from processing plastic and injection-molded goods
Detail Information
Vacuum suction and dust collection device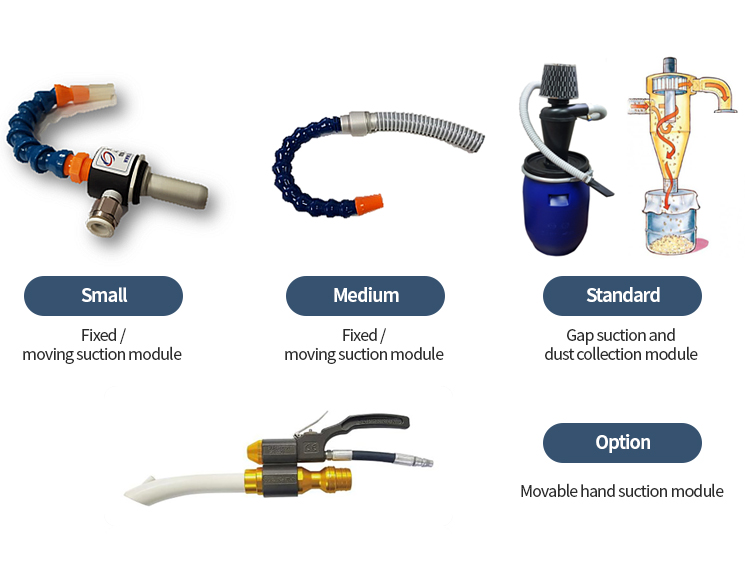 With a strong vacuum suction and dust collection structure, it prevents processing chips or foreign substances from clogging the filter by suctioned processing chips or cutting oil.
It absorbs strongly and collects dust.
* Suction and dust collection of chips and foreign substances mixed with moisture or cutting oil.
* Suction and dust collection of fine dust generated during graphite processing or sawdust powder generated during wood processing
Specification
Inlet size
Amount of air consumed
Vacuum level
SCFM
ℓ/min
mmHg
kPa
32mm
17
482
97.5
-13
* Amplification rate based on pressure of 5 Bar
Application range
Sucking dust from a wood carver and combustion gas from welded part
- It sucks in and discharges dust created from processing CNC carver or combustion gas from welding.

Sucking dust from grinding work

Graphite finishing machine


: Sucking and collecting dust from processing graphite

CNC carver


: Sucking and collecting fine sawdust from processing mockup

CNC plastic finishing machine


: Sucking dust from processing plastic